Ice on Ice: an ice capade in sixty acts (program notes)

View performance Playbill here.
View NBC News press coverage here.
Contributing performers, crew and choir were: Claire Arkin, Kathleen Attfield, Lee Bishop, Jason Botterill, Walter Craigie, Anna Cvitkovic, Jenny Donohue, A. Fenner, Emily Haydock, Keith Hernandez, Joseph Horseradish, Lily Janiak, Josh Sorkin, anonymous, Spider Davila, Boris Fain, Rosa Fuller, Snatch Adams' Blow Show, Rhiannon Guilford, Jamie Mayne, Greta Mayne, Ooze McMartin, Sophie Young, Emily Zuckerman, Mike Attia, Julia Barbano, Dylan Becker, Ryan Elwood, Ian Grady, Paula Junn, Alli Pemerl, Flo Ramierz, Jennifer Randolph, Rich Swan, and Sabrina Wenske.
The Strawman Collective is: Andrew Miguel Fuller, Daniela Rossell, Galen Jackson, and Ross Warren.
Ice on Ice was made possible by a grant from the San Francisco Awesome Foundation.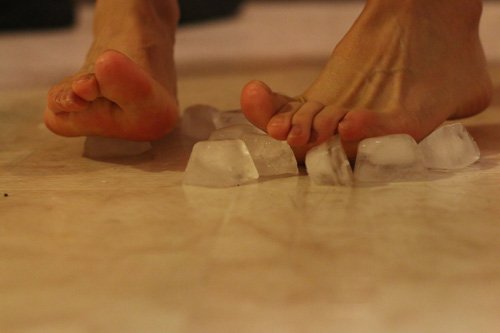 (Photo by Ross Warren)
Ice on Ice: an Ice Capade in sixty acts!
A free performance art event
January 5th,  7:15 – 8:15pm
Oakland Ice Center (519 18th st – @ Telegraph)
60 acts in 60 minutes!
A Rube Goldberg machine transformed into a performance!
Unencumbered by a conventional narrative!
Complimentary in-flight beverages!
Ice!